I'm very excited to introduce you to the new book A Modern Twist: Create Quilts with a Colorful Spin by Natalie Barnes with Angela Walters (Martingale). First of all, let me tell you a bit about Natalie. Working in the industry I met Natalie somewhere along the way. I didn't know her well but, I knew her and would see her at shows and other events. We would always chat and catch up. One show she mentioned that she needed a roommate for Quilt Market and I had a room for Quilt Festival and after a bit of back and forth with logistics we decided to share and room together. Then I realized I would be rooming with Natalie for 10 whole days! Now, you all know 10 days living with someone could either go really good or REALLY bad. Well, needless to say it was awesome! She is smart, caring and funny (and gives great little care packages for roomies) and she is all about community and supporting each other. We stayed up WAY too late a few nights swapping stories about our lives. I was so happy to find that this spirit comes through so clearly in her book as well!
The whole premise of the book is brilliant – that you can make simple asymmetrical blocks and rotate them to create a very dynamic quilt. The result is brilliant.  It's actually fun flipping through the book trying to identify the block units without looking at the pattern. One of my favorite quilts is called Circle Shuffle. Go figure, I like circles. 🙂 It took me a minute to identify the block in this one which is why I love it so much. It looks so much more complex than it actually is!
Throughout the book, Natalie explores the design areas of Color, Contrast and Composition through telling beautifully written stories and encouraging the reader to explore these design elements themselves. And, not only does Angela Walters quilt each of these beautiful quilts and projects but, she also explores the concepts of Color, Contrast and Composition as well.
Let me talk a bit about Composition. In quilting, composition is how all the elements of the quilt works together to form the final product. When you think about designing a quilt do you just think about what fabrics will go into the quilt top or do you think about all elements of the quilt. Composition includes how the elements of the fabric play together and in what scale. It looks at block layout and arrangement. It can even include designing with the function of the quilt in mind. Will it just be a throw or will it be on a bed? If it's on a bed how will that design look when laying on the bed? What is the plan for quilting the quilt? Even your binding choice can affect the final look of the quilt. I love that this book takes a look at composition in a deliberate way.
In all, A Modern Twist is a great book for exploring quilting from a slightly different perspective. Experienced quilters can have fun playing with the elements of color, contrast and composition as they impact the design of each of these quilts.  And beginning quilters will have the opportunity to wow by creating complex looking quilts with simple blocks.
Thanks Natalie for letting me play!
If you'd like to win your own copy of A Modern Twist, leave a comment below with what part of composition is most fun for you in your quilt design! A Random Number Generator will select the winner on March 15th, 2015. If the winner is from the US they will receive an autographed copy. If they are International, it will be an e-book!
And the winner is: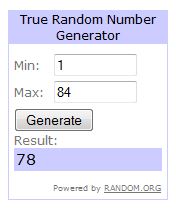 Number 78 is Lynn! Congrats Lynn. Look for an email from me!

_____________________________________
Join the rest of the blog hop as some amazing quilters take a look at A Modern Twist!