After WAY too long – the Molehills Quilt pattern is now available to purchase for download and will soon be available in print. I had a wonderful time teaching this pattern. First at Sewtopia in Chicago and then again at Sew Modern in Los Angeles. With all the experience teaching it I was able to refine and expand the pattern a bit before it was finalized.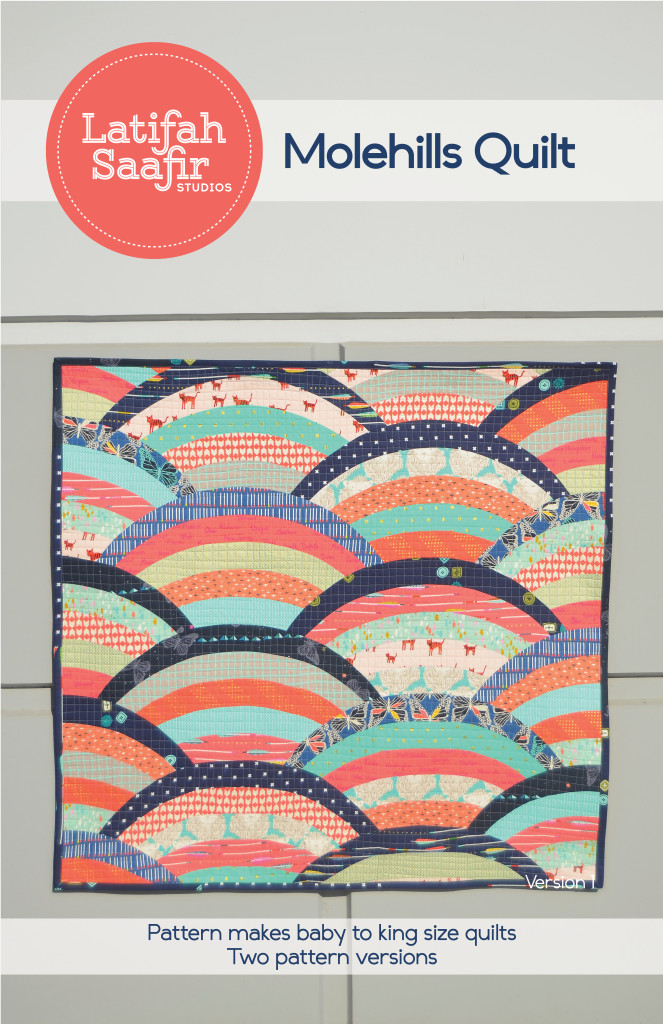 Thanks to all of you who have purchased the pattern so far! I get so excited to see people making Molehills Quilts and making them their own.
So, who's up for a Quilt Along? This will be especially great for those of you that really want to sew this but, are still a little intimidated by sewing curves. I promise, that it is a lot easier than you think! The curves are relatively gentle and I'll teach you a bunch of techniques that will make this go together like a dream.
In the first quilt along installation we'll talk about planning your quilt.
The beauty of this pattern is that it allows you to really customize it and make it your own. There are pieced fans, paper pieced arcs sewn into fans and the most recent addition is the template for full fans! These can all be interchanged and mixed.
Version 1
Version one is the main pattern and each fan consists of five arcs.
Version 2
Version two allows you to paper piece the arcs. Lines are drawn on the pattern for ease and convenience.
OR, you can paper piece it free form OR draw your own lines like Myrth did!
Bonus: Full Fans
My fabulous TA at Sewtopia, none other than Rossie Hutchinson of Fresh Modern Quilts fame was the first at Sewtopia to include full fans but, I was reminded that one of my pattern testers did as well. And so I decided to include it in the pattern as a bonus. Yep, thank Rossie for that one.
Coloring Page!
Included in your pattern is a coloring page for you to use to help plan your quilt. You can print out as many copies as you need and play until you have a layout that you are happy with. The coloring page has the Version 1 layout but you can easily add lines for any Version 2 arcs/fans and you can also color all five arcs one color to represent full fans.
LAYOUTS
With all the variations of arcs and fans there are countless options but, I'll give you a few ideas to use as a starting point for planing your layout.

Version 1
Scrappy – The easiest way to make this quilt is to make a scrappy Version 1. This requires the least amount of thought. You can just focus on sewing and the result is still fabulous!
Scrappy with a Plan – You can have one constant, like the top arc being the same fabric or the same color and the rest being random and scrappy like I did with my Wet Matches version of the Molehills Quilt pattern. The top arcs are all navy/blue and the bottom alternate aquas and corals.
Deliberate Layout – And, lastly you can make a very deliberate layout like Giedra did in her quilt. The coloring pages will be helpful for a very deliberate layout.
Version 2
Scrappy with a Plan – Each fan is pieced with the same color family in this great quilt by January, one of my fabulous pattern tester.
Highlight a Few Fans – In my very first Molehills I highlighted a couple fans with prints and pieced all the rest in tan/beige neutrals.
Scrappy – I sorta want to see someone make a purely scrappy Version 2 Molehills. . . I think it would be lovely. (If you do, please send pictures!)
Full Fans
I haven't yet seen a quilt made of ALL full fans but, it is a definite option. It would be bold and I wouldn't even say that you were cheating. 🙂
Mix & Match
This is where the fun really starts!
One of my pattern testers Patti used a solid top arc and pieced the rest of them. Really defines those fans.
Angela Pingel of Cut To Pieces mixed full fans and Version 1 fans.
Color
You can really, really play with color in great ways in this pattern. I'll give you a few ideas that will hopefully get you to dreaming.
Alexandra uses color in such a great way! It is unusual and unexpected and very, very effective.
And, I don't have a great picture of my Moody Blues Molehills but, I wanted to do an all solids version of this quilt and it's a sort of gradation from dark blues in the upper left corner into neutrals in the bottom right.
These are just a few ideas – the sky is the limit with these layouts and color options! What is your plan?
Next week when you all have a plan, we'll look at prepping your templates and cutting!