I love Kona Cotton! I remembered getting my first Kona color card and drooling over all the colors and all the possibilities. And to think they started with just a dozen colors 30 years ago!
When I was asked if I would design a quilt to help Robert Kaufman celebrate 30 years of Kona I was a bit overwhelmed. Especially when I knew they would be choosing 29 other Ah-may-zing quilt designers to do the same. In the end, I decided to go for a quilt that would really highlight the fabric without the quilt being too matchy matchy. I was asked to specifically use the latest releases, the 32 new colors that combined with the existing colors made 303! #omg303
My quilt is called Triangulate and it is a free download on the Robert Kaufman website.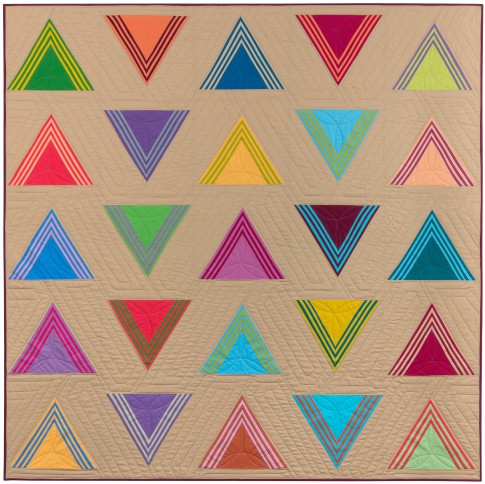 I LOVE styled quilt shots so I'm so glad that they took this pic!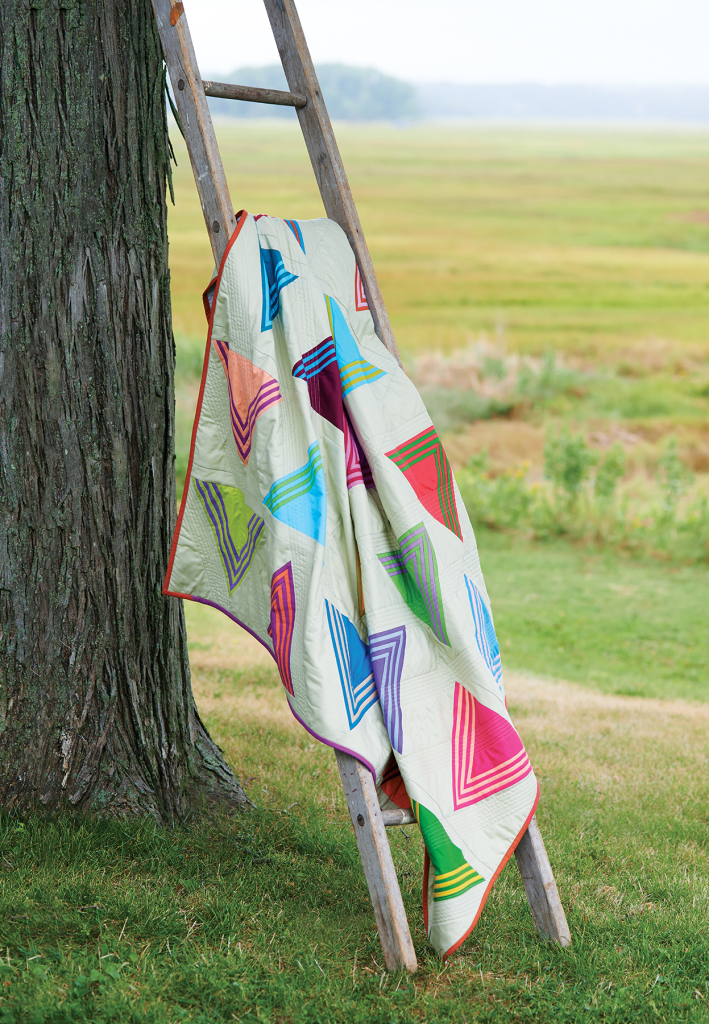 To see how much of a Kona Cotton nerd I am, Robert Kaufman hosted a Kona IG game at Quilt Market a few weeks ago and I was the first person to get a perfect score. Yep, Kona nerd and proud. 🙂
There are SO many other stunning quilts that were a part of this project. Click on over to the Lookbook to see them all! If I can only choose two the first one would no doubt be Bartow. I must say that I LOVE everything this lady does. Carolyn Friedlander. Yep, enough said. And to think she's just as awesome in person as well. Love this. Love her! The quilt is simple and clean and stunning!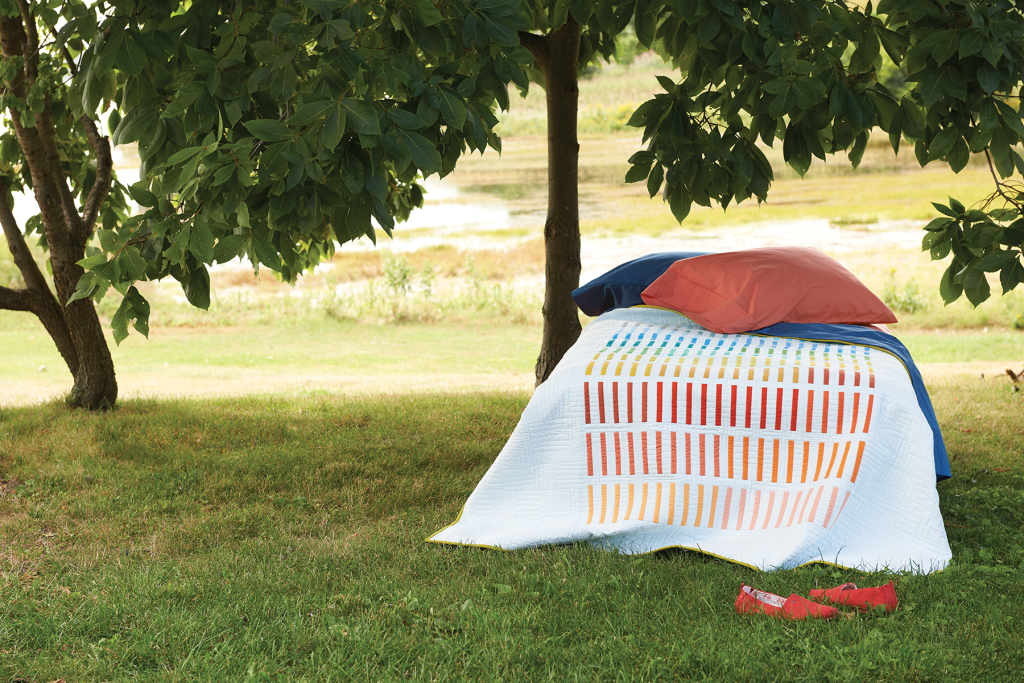 Then there is a quilt by my new friend Anita Grossman Solomon. I love two color traditional quilts. Simple, classic, beautiful. And, I hear that she teaches methods for making these easier than they look. It's it just lovely!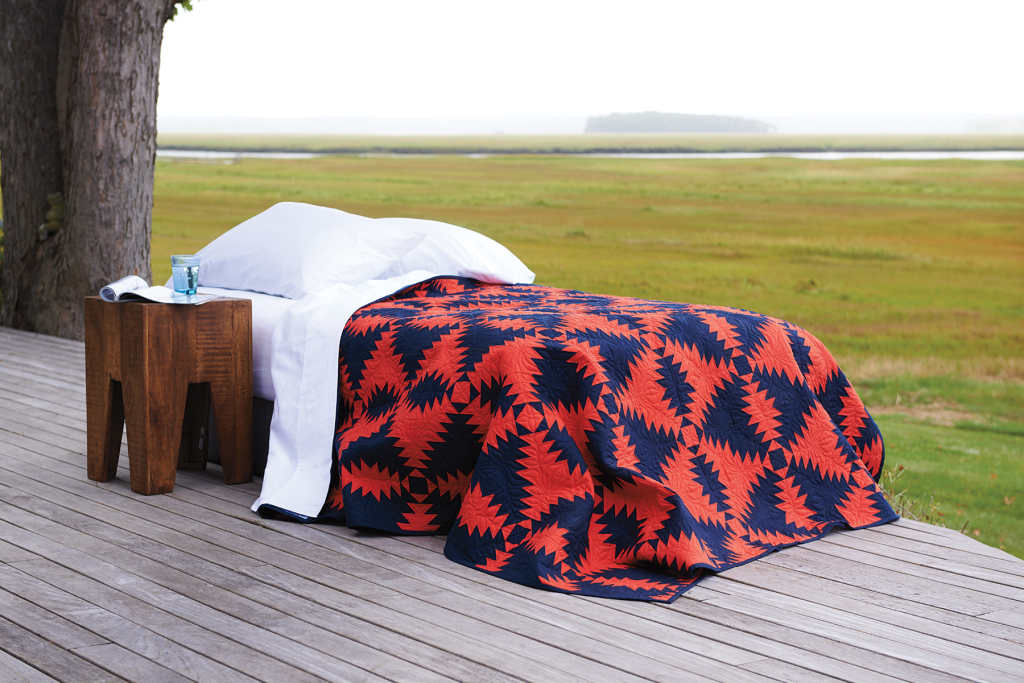 Week 1:
Saturday, November 1st: Johanna Masko
Sunday, November 2nd: Alyssa of Aria Lane
Monday, November 3rd: Dorie of Tumblingblocks
Tuesday, November 4th: Megan of Canoe Ridge Creations
Wednesday, November 5th: Daniela of Cozy Quilt Designs
Thursday, November 6th: Faith of Fresh Lemons Quilts
Friday, November 7th: Anita Grossman Solomon
Saturday, November 8th: Debbie of Esch House Quilts
Week 2:
Sunday, November 9th: Alex of Teaginny
Monday, November 10th: Darlene Zimmerman
Tuesday, November 11th: Nichole Ramirez with Aurifil
Wednesday, November 12th: Rita Hodge of Red Pepper Quilts
Thursday, November 13th: Lee of Freshly Pieced
Friday, November 14th: Julie of Jaybird Quilts
Saturday, November 15th: Latifah of The Quilt Engineer
Week 3:
Sunday. November 16th: Elizabeth Hartman
Monday, November 17th: Erica of Kitchen Table Quilting
Tuesday, November 18th: Karrie of Freckled Whimsy
Wednesday, November 19th: Valori Wells
Thursday, November 20th: Marilyn of Quilt Moments
Friday, November 21st: Cortney Heimerl
Saturday, November 22nd: Shayla and Kristy of Sassafras Lane Designs
Week 4:
Sunday, November 23rd: Shea of Empty Bobbin Sewing
Monday, November 24th: Carrie Strine
Tuesday, November 25th: Rachel of Stitched in Color
Wednesday, November 26th: Liz of Lady Harvatine
Saturday, November 29th: Carolyn Friedlander
Week 5:
Sunday, November 30th: Elizabeth of Don't Call Me Betsy
Monday, December 1st: Emily of Carolina Patchworks
Tuesday, December 2nd: Ken Kaufman
Wednesday, December 3rd: Grand Finale!
Giveaway
If you love Kona as much as I do then tell me your favorite color in a comment below to be entered to win a charm pack of the new Fall 2014 Kona colors! International entries are welcome. You have 24 hours to enter – giveaway ends on 11/16/14!  Giveaway closed!