Finally, the all new Glam Clam Quilt pattern has been released digitally and for the next seven days it will be on sale for $5! Woot! That's more than 50% off of the regular $12 price. I'm pretty excited about this one. And, it's not just updated it has been completely rewritten and newly illustrated. The digital version is available immediately on Craftsy and in my webstore and the print pattern has been sent to the printer!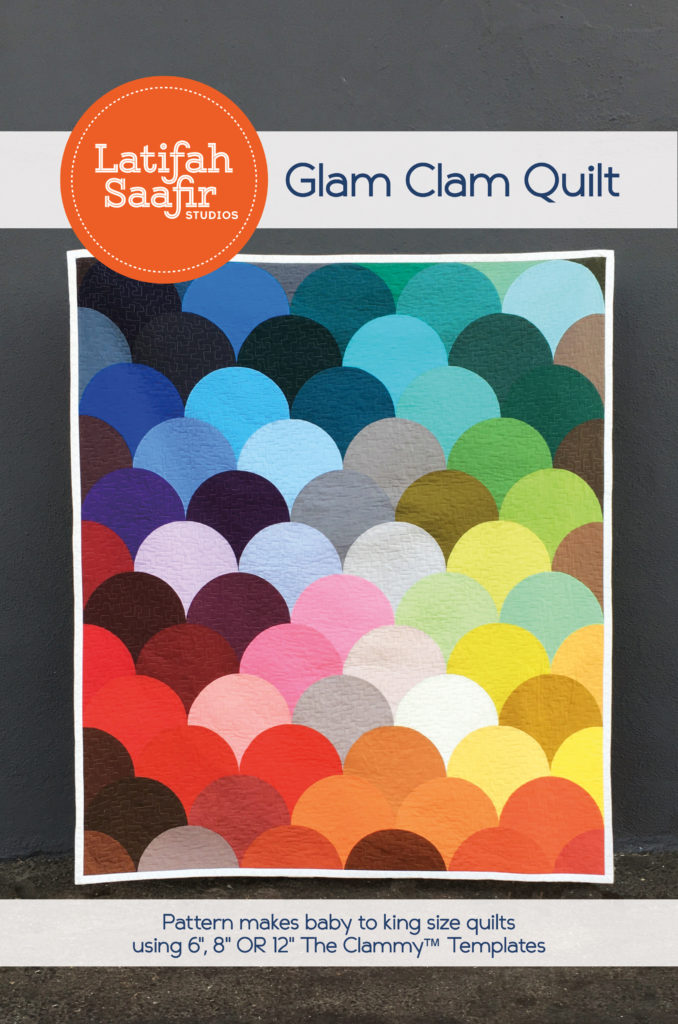 SALE
Did you already buy The Clammy™ (thank you!) and are you wondering how to cut all the peripheral shapes and how it goes together? Don't tell everyone else but, this sale is specifically for you! Glam Clam pattern for $5! But, since everyone can take advantage of it why don't we just go ahead and put everything else on sale in my webstore for 20% off for this week only!  Use coupon GLAMCLAM when you check out. This includes The Clammy™ templates, Aurifil thread boxes, books, Grafic fabric, all of my patterns and any other products on the site! Sale ends Thursday, October 6th, 2016!
A little about the all new Glam Clam Quilt pattern
The 16 pp (11 pp digital) pattern has layouts for six quilt sizes (Baby, Throw, Twin, Full, Queen, and King) for each of the three Clammy™ rulers. It includes cutting directions for all the side, top and bottom shapes. It describes in detail my pinless piecing technique. It also, includes info on how to mark and use registration marks in your sewing. This pattern does not include paper templates – it is designed to work directly with The Clammy™ templates.
Coming Soon: The New Clammy's
I'll share more about it soon but, the new batch of The Clammy™ templates is on it's way soon! I learned a ton from the first batch and there are a few small changes. The main change that affect you is we've put the registration marks directly on the templates! Don't despair that the existing Clammy's don't have the registration marks on them because I've created a marking template so you can easily add them with a permanent marker!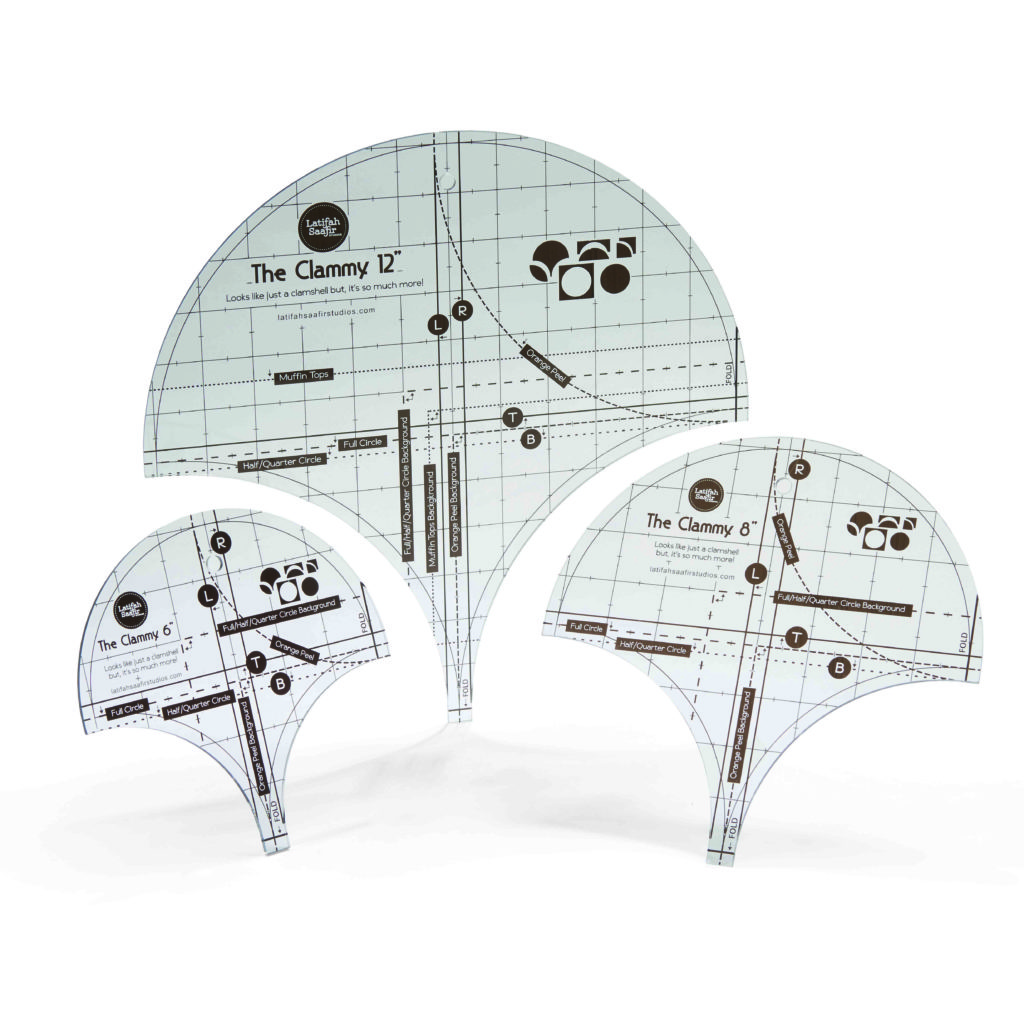 It was Free but, now it's a Paid Pattern?!
So, I'll address the elephant in the room before you even ask questions. First of all, thank you so much for downloading the original Glam Clam patterns almost 20,000 times! Blows my mind! That was my first pattern – as you could tell by the fact that it was almost a million pages long. And since it was my first, I posted it for free. Rewriting it I put into it what I put into writing all my new patterns – time (you can't imagine the time it takes to write, format, illustrate, edit, layout, make samples, photograph, etc. etc.), money (sample creation, technical editing, etc.) and just sheer heart – this pattern has a piece of me in it. So now, it's time that we retire the outdated free pattern and introduce this pattern as part of our printed paid pattern line up.  It was a tough decision to make but, making it a paid pattern allowed me justify investing the right amount of time into the pattern to make it great. And, as a paid product it allows me to do so much more including offer it in stores for them to provide to their customers along with their Clammy templates. There is a LOT more I could say on this. A LOT. And, I welcome the conversation too. As a matter of fact, there are some interesting discussions going on in the craft world right now about undervaluing the work of craft entrepreneurs and free versus paid content and the subsequent expectations of the consumer. Check out Crafty Planner's most recent podcast for an interesting insiders view of this conversation.
Anyhow, enough of that. There's a sale – go check it out!
Hugs!
Latifah